Anne of Green Gables in Twilight by Stephanie Meyer
Stephanie Meyer cited Anne of Green Gables as one of her major inspirations for Twilight Entertainment Weekly.
The series influenced how my series turned out. Because I was never a fan of the stories where everything ends and they kiss at the wedding. Anne of Green Gable started out with her as a child, she had a very fully described adolescence, she had a book-long engagement, we got to see her wedding, we got to see her have her first child and lose her first child, we got to see her children grow up. We got the whole life, and I loved that."
Meyer references Anne directly in the books. The romantic hero of the series, Edward Cullen, died from the Spanish flu in 1918, and has old-fashioned sensibilities. When Bella Swan daydreams about her life with Edward, visions of Anne of Green Gables arise in her mind:
I saw myself in a long skirt and a high-necked lace blouse with my hair piled up on my head. I saw Edward looking dashing in a light suit with a bouquet of wildflowers in his hand, sitting beside me on a porch swing. I shook my head and swallowed. I was just having Anne of Green Gables flashbacks. – Eclipse, ch. 12
The vision sounds exactly like this scene from the 1987 Sullivan miniseries, Anne of Avonlea: long skirt, high-necked lace blouse, hair piled high on head, and a bundle of wildflowers.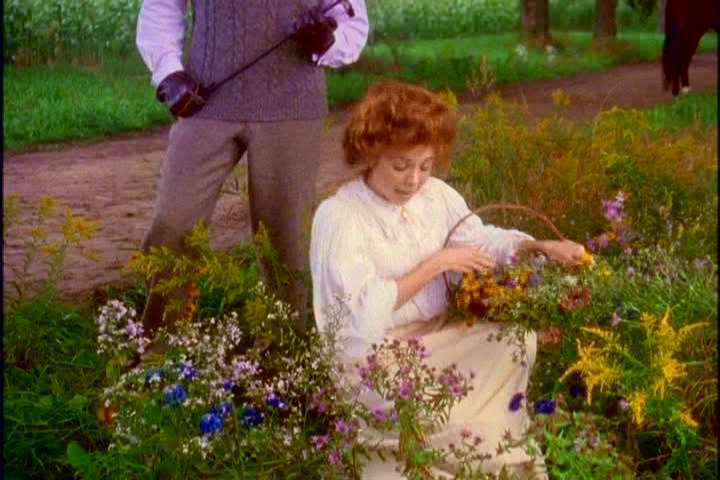 from Avonlea Vignettes
Bella Swan's wedding dress is Anne-inspired, too.
"What do you think?" she demanded.

It was my Anne of Green Gables vision all over again.

"It's perfect, of course. Exactly right. You're a genius."

She grinned. "I know."

"Nineteen-eighteen?" I guessed.

"More or less," she said, nodding. "Some of it is my design, the train, the veil. . . ." She touched the white satin as she spoke. "The lace is vintage. Do you like it?"

"It's beautiful. It's just right for him."- Eclipse, ch. 12
This website with a fan's sketch of Bella's wedding dress points out that Anne was only married during World War I in the miniseries. (She was married in the 1890s in the books.) It also has some fashion notes.
I daresay Bella's wedding dress resembles Anne's dress – Edwardian, circa 1915 – from the third Anne movie.
Montgomery is echoed in other ways in the Twilight series. This description of the shore in the first book, Twilight, reads a leaf borrowed from L. M. Montgomery's purple prose.
I'd been to the beaches around La Push many times during my Forks summers with Charlie, so the mile-long crescent of First Beach was familiar to me. It was still breathtaking. The water was dark gray, even in the sunlight, white-capped and heaving to the gray, rocky shore. Islands rose out of the steel harbor waters with sheer cliff sides, reaching to uneven summits, and crowned with austere, soaring firs. The beach had only a thin border of actual sand at the water's edge, after which it grew into millions of large, smooth stones that looked uniformly gray from a distance, but close up were every shade a stone could be: terra-cotta, sea green, lavender, blue gray, dull gold. The tide line was strewn with huge driftwood trees, bleached bone white in the salt waves, some piled together against the edge of the forest fringe, some lying solitary, just out of reach of the waves.
Montgomery frequently describes the sea as white-capped and austere, while hill-tops are crowned with sentinel firs.
Last modified: April 12, 2009